< Back to all
How to Stay Financially Fit
May 23, 2019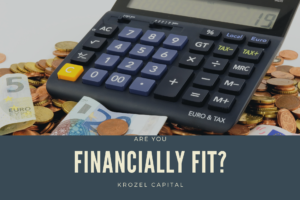 As time marches on, we often find ourselves worrying about our health and how physically fit we are.  Am I walking enough?  How's my blood pressure?  Do I need to incorporate more exercise and healthy eating?
And while making sure you're physically fit is important, how many people are making sure they are financially fit as well?
Just like you need to keep your health in order, everyone needs to keep their finances in order as well.  But how do you stay financially fit?
Here are 3 simple things to do outside of tax season to help stay financially fit:
1) Run a 'Paycheck Checkup'
Did you get a large refund or owed taxes this year? Maybe you haven't filed yet and are still unsure of how tax reform will affect you?
If so, this would be a great time to check your tax withholding to see if your employer is over or under withholding taxes. The IRS has created a great online tool to help with this.
You will need a copy of your most recent paystub(s) and your last filed tax return. Then visit 
this website
 to get started.
If you are self-employed , living abroad , or receive employer stock benefits (RSU's, NQSO's, etc) this calculator is not for you and 
you may need our help.
2) Check Your Spending and Savings Plan
Like many people, you may not even have a spending or savings plan. You are spending (and you may be saving), but just don't have any set plans, goals or direction.
Are you spending too much every month? Do you need to save more? Most advice out there is to first "create a budget". Throw that advice out the door.
If you have not actually tracked your spending in awhile, the first step is to figure out what you are actually spending per month.
Download the last 3 months of your bank and credit card statements and figure out how much you are actually spending monthly. A lot of people think they have an idea, but are surprised once they actually add everything up!  THEN see where your money is going.
Last but not least, create a realistic budget.
Spending issues are not limited to lower-mid income individuals and families.
I recently worked with a client who makes $280,000 a year and feels as if him and his family are living month to month and not saving.
Now you may be on the opposite end of the spectrum. Your spending is tracked and/or under control and you are saving like crazy.
But what are you saving for? Where are your savings being held? What are they earning? Are you saving way more than you need to and not enjoying life as much now because you DON'T have a plan and/or are worried about the future?
There are so many resources out there to help, but I've seen that many people don't use them, are too busy to carve out the time to use them, or simply just put this on the back burner because it's a big project to tackle. This is where we can come in and help. We offer fee-based financial planning and investment services. 
Set up a call with us today.
3) Consider Freezing Your Credit
When you freeze your credit, no one can pull your credit report or credit score without your permission.
As most banks, credit cards, etc all require a credit report to be run before opening a new line of credit, freezing your credit helps protect you from a scammer opening a new account in your name and going on a spending spree.
You must freeze your credit with each of the three major credit bureaus, so is a bit of a process but well worth it. I've listed below direct links of how to start this process with each of three bureaus.
Remember, when you freeze your credit it does mean that you will need to do a temporary 'lift' when your credit does need to be run (applying for a mortgage, new credit card, etc).
Again, this takes about 30 minutes to an hour of your time, but in my opinion well worth the protection.
Time. Yes, it's limited and always something we need more of.
So first and foremost, have fun and enjoy life!
But sometimes in order to relax enough to do that, we first need to carve out some time 
or get help
for the not so exciting things.  However, just like squeezing in exercise might be tiresome, at the end of the day, you'll be glad you took the time to stay financially fit!