< Back to all
Hiring Virtually
June 14, 2019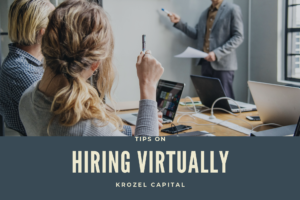 If you are a virtual business owner like myself, and you're expanding, then hiring is inevitable! If you need some more help and decide to bring somebody on, there are some things that you need to keep in mind.
The question is, what do you need to do in order to bring a person on and
protect yourself? I'm going to go over a list that I have come up with through my personal
experience and I want to share with you!
Many Hats
As small business owners we have to wear many hats!
We are IT, Sales, CEOs, janitors. We have to do/be a little bit of everything when we are
self-employed, and one thing we may not be experts in is Human Resources.
So let's say you post on LinkedIn, Craigslist, Zip Recruiter and you have an interview over the internet. And after speaking with a potential hire, you say, "Hey, you're perfect and I would like to bring you on for a project as an employee or contractor.
I'm going to give you a few things to think about and things to do when you find that perfect person and you're ready to move forward.
Background Check
Number one is a background check.
There are many companies out there online, you can just go to a search engine and put in
background check. The one I've used before is called Good Hire.
I don't get sponsored or any money from them, but I've used them twice but they're pretty good.
I've also used a company called Easy Backgrounds before, but there are many companies that do this online.
Now, when you first sign up for a company to run background checks, it takes a little bit
longer. They have to verify that you are a real business because you're going to be running background checks on individuals, so they want to make sure that your business is legit.
So there's a few extra steps you have to go through the first time, but once you've done that and you go back to use that website again, it is super quick.
I just brought on a new person two weeks ago, and right when I was done with the interview, it took me about five minutes to set up the background check. The background check information was sent to her email box, she can open it up and fill it in and the process can get started.
Note there's different levels of background checks that you can do.
If you are a virtual business owner and you're hiring somebody remotely, you really have no idea if anything they have in their resume is true or if they are really who they claim to be.
In this case it's probably worth it to pay a bit more to run a good background check.
I think I recently spent about $120 but I did the full gamut and I also had them check education as well. You can have them check employment, they can do all sorts of things for you.
Money vs. Time
Now, it can quickly add up!
You go $15 for this or another $15 for that, but if you were gonna take the time to truly verify employment or you were gonna take the time as a business owner to truly verify employment, education, etc., that's going to take you a lot longer.
And it will probably cost you in time more than the $15 to spend for a background check company to do it for you.
So be thorough (and not cheap) with your background checks!
Another cool option with some companies is you can pay a monthly fee to have continual
checks going even after you hire. Not everyone needs this, but good to know about if you frequently find yourself bringing on new employees!
Credit Report
Next would be a credit report.  In order to get to know this individual, a credit report is a great way to further familiarize yourself.
Have they had any bankruptcies?  What's their credit look like? Is there anything, especially if you're bringing somebody on that might be dealing with clients personal financial information.
A credit report is important but not necessary for all positions, so you may not need to consistently run one. If you do, you can run a credit report through a lot of the same companies that do the background checks, but sometimes it takes a few extra hoops and steps.  
You may not want to go through that, so what you could do is just ask the person that you were hiring if they can please go online to a free website, for example Credit Karma, and download their free credit report and they can then send it to you and you can review the report.  
But obviously getting from a third party is better as we all know documents can
be doctored pretty easily these days!
W-9
You're going to want to have your new hire fill out a form W-9.
It's on the IRS website, you just go to irs.gov and in the search bar just put form W-9 and you'll see a link.
The W-9 is a one-page form you send to the new hire to fill out their name, address, social
security number, etc… basically all the information that you will need in order to file a 1099 (for a contractor) or Form W-2 (for an employee) at the end of the year.
(If you're wondering about the difference between hiring an employee vs. a contractor, we will address this in a future post…lots to talk about here!)
But back to the W-9! In January of the next year, you're going to have to add up all the payments that you have paid to this person and file either a W-2 or 1099. (there are companies online that can help you with filing these as well – well worth it).
I've used eFile4biz.com but there are many others. Or, if you use a payroll service (discussed below) they can help with this as well.
All of the information you need will be on the W-9 that you had the person fill out upon hire, which is important so you don't have to go chasing someone to get this come filing time.
This is especially helpful if you bring on someone that maybe works for a few months and doesn't work out. It could be hard to find them later!
Terms of Employment
The most important thing you want to do is have an agreement in writing of all the terms
and conditions of either employment or the contractor agreement.
Now, don't worry, you don't need to go out and get a lawyer, but this really depends on your type of business.
There are a lot of free templates online that you can download and use. You can tweak it to your business, but the main thing is to have the terms and conditions in writing signed by the employee or the contractor and signed by you. Make it official.
Due Diligence
Next, get a copy of their driver's license.  This is important, and you want to look at the address on the driver's license and make sure that agrees to their address on their resume, background check and on their credit report.  
If they don't agree, it doesn't mean this person is trying to scam you.
We all know a lot of people move, marry, divorce, etc. We are much more mobile today, so there could be a legitimate reason, but it's good to ask and understand to get a full picture of your potential hire's situation.
That's just one thing to look for, so make sure that you're doing your due diligence and that the person is really who you think they are.
Verify Certifications
Next, you want to get copies of all certifications that you may need.  
So, for example, I am a tax preparer and financial planner.  If I hire somebody that says their CPA, I'm going to make sure that I look up on their state and that they really do have an active CPA license.
In order to file tax returns, there's a number we need called a PTIN.  I'm gonna make sure I get a copy of their most recent PTIN letter and make sure that everything is up to date with all their certifications.
So no matter what type of business that you have, make sure that you do your due diligence and you get copies of all these certifications.
Payroll
Information that you may need is sometimes easy to overlook!
You're going to need their bank information since you will need to pay this person at some point.
And again, as a business owner, the easiest way to do this is electronically. Nobody uses
checks anymore, so immediately you should probably get their bank name, the routing
number, their account number and their address again.
If you are paying a contractor and don't already use a payroll service, you may not need one.
You can likely just pay this person from your business bank account online.
If you hire an employee, I recommend using a payroll service. Each state has different
rules/laws/taxes.
Note that if you hire someone in a different state than where your business is located, you have to follow the tax rules of your employee's state. A payroll service will help you stay compliant.
I use Intuit full service payroll but there are many others Gusto, ADP, Paychex, etc.
Make sure to look at the fees and see what fits the best for your business.
Keep It Secure
Your potential new hire will provide you with a lot of personal information and you owe it to this person to provide them a way to transfer it to you securely and for you to store it securely.
So don't use e-mail!
An easy, quick and free one is Dropbox. If you are looking for a full document management system/portal combo, I've used EfileCabinet for many years.
There are many others out there as well (SmartVault, ShareFile, DocuWare, etc.).
Hiring is always exciting and nerve-racking at the same time. Sometimes you strike gold right away and sometimes you have to go through a few hires to find the right fit.
I hope these steps above give you the confidence to get started. Good luck with your hiring!
Did you enjoy our post on hiring virtually?  Check out the video here!